Galette des Rois
King Cake | Bánh Ba Vua

Available for delivery from DEC. 27th to JAN. 20th included
Time to enjoy those tasty Galettes

Happy New Year 2023!
Our limited Galettes des Rois (King Cake | Bánh Ba Vua) are back!
There may be several different recipes for the Galettes des Rois. The French Bakery uses Puff Pastry (Feuilletage) recipe for the crust and Cashew cream (Crème de cajou) for the filling. The rich cream and crispy crust will surely melt every "sweet" heart.
Each cake is hand-crafted by our students with the best imported French butter and flour as well as high quality locally-sourced ingredients: cashew powder, eggs, sugar, and salt. As always, no substance was added.
Besides the paper crown for the "King/Queen of the Day", you may find a collection of 5 ceramic charms made by Minh Long Premium Porcelain in our galettes that composes the word "PARIS" and represents the famous destinations in France. Collect all 5 and win a FREE galette des rois.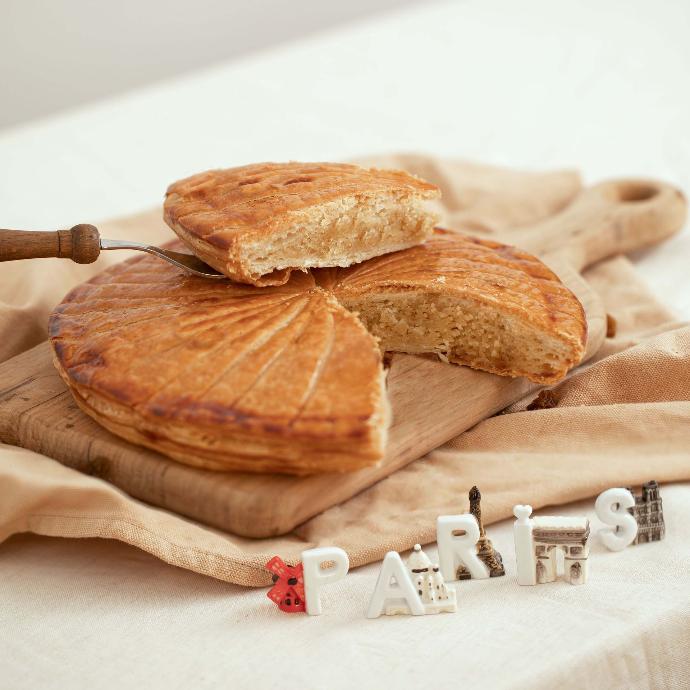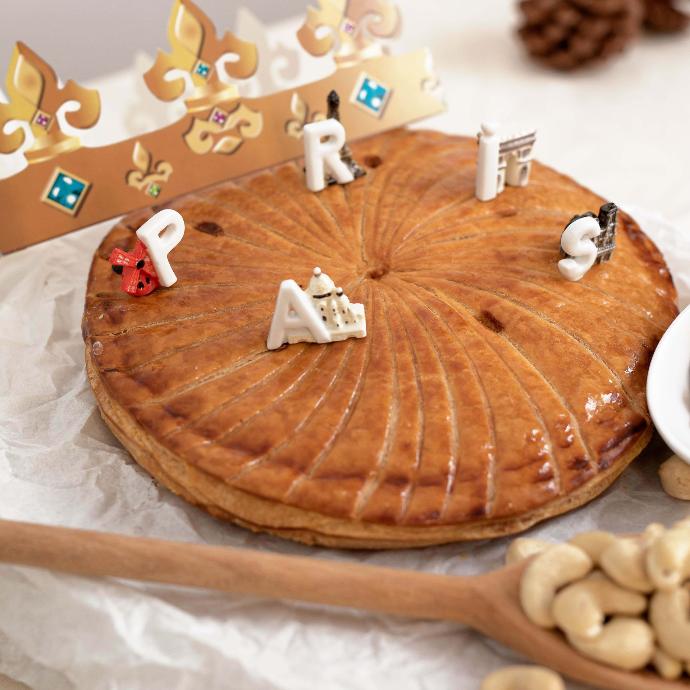 A French Tradition
Traditionally, Galettes Des Rois is served on January 6th – the 12th day of Christmas – to celebrate the Epiphany, a religious feast day commemorating the arrival of the Three Kings (Three Wise Men) to give gifts to the baby Jesus. Today, it's enjoyed throughout the month of January and is simply a festive way to celebrate the new year with family and friends, regardless of religious background. The cake is popular due to a traditional belief that dividing the cake will 'tirer les rois' ('draw the kings') to the Epiphany.
Each galette always contains a single little charm, or fève, that is hidden inside. The person who finds this little charm within their slice will become King or Queen of the Day, and will offer the cake at the following year's celebration. To ensure a random and fair distribution of the cake shares, it is traditional for the youngest person to place themselves under the table and name the recipient of each piece.
Formerly, the galette would be divided into as many pieces as there were guests, plus one. This final slice was called 'the share of God', or 'the share of the poor', and would be given to the first poor person who arrived at the door asking for charity.
Collect 5 fèves (charms) to redeem a FREE galette
We are still waiting for the winners from our previous editions. So this year, we will give you one more chance to win your free galette by collecting all the charms made by Minh Long Premium Porcelain found in each galette. Together they represent famous Parisian destinations in France.
Collect all 5 that composes the word "PARIS"
Take a selfie with them
* By sending us the photo, you are authorizing us to use the photo for all communication purposes.