15%
students from ethnic minorities

70%
students from remote areas
66
graduates since 2017 in HCMC. 87% of whom are working in hotels, resorts, shops and supermarkets.
Life-changing story of Kim Tuyen
Every year, 20 vulnerable youth from all regions of Vietnam join the 18 boarding training program of La Boulangerie Française to become professional bakers and agencies of their own lives.
Like Kim Tuyen, they are offered with accommodation, food and healthcare as well as technical baking lessons, English and Life Skills in our campus in Thu Duc City.
More clips on our Youtube Channel.
A social enterprise to support vulnerable youth in job integration


Good breads and pastries are loved everywhere, from French 5-star restaurants to Vietnamese street stalls.
Disadvantage youth need a sustainable career to break poverty cycle and to become agencies of their own lives.
Bánh mì is our expertise and a promising profession we offer them through a free, high-quality and well-rounded training program.
La Boulangerie Francaise operates as a social enterprise. We sell best products made by students during their practice sessions to cover their accommodation, food and training expenses.
Follow us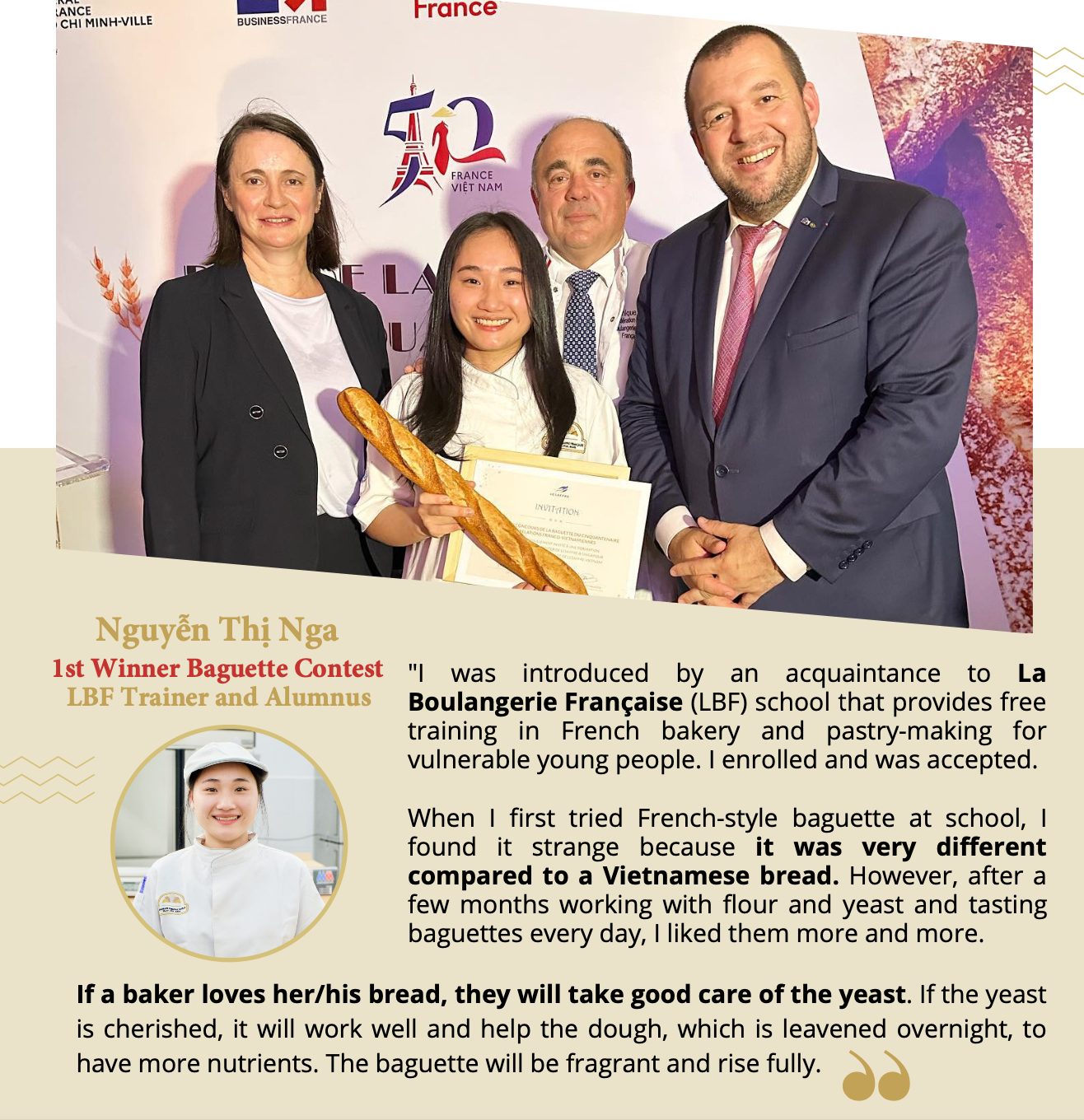 Authentically French, hand-crafted and healthy products
Good deeds are loved and shared, so are high-quality products made by professional bakers of tomorrow.
- Recipes are developed and quality controlled by French experts
- Process respecting French bread-making tradition
- Yeast and dough naturally leavened
- Carefully hand-crafted by students
- No substance-added
Our Trainer and alumus Nguyễn Thị Nga recently won First prize in the Best Baguette competition hosted by General Consulate of France and assessed by top French and Vietnamese Chefs.
We bake for change. You eat for change.
Order now
A responsible approach
Besides being socially responsible, La Boulangerie Francaise takes sustainability in to account in our daily operation.
We prioritize using quality local ingredients whenever possible.
We keep improving our Eco-friendly production and delivery process to minimize single-use plastic and carbon footprint.
You too can help us make our country better by choosing La Boulangerie Française and granting us the flexibility required to group your deliveries together with your neighbours, and by returning used boxes to our shipper every week.
Contact us
















The project will not sustain without the support from our customers and joining hands from our partners.